Professional Voicing
BallparkDJ offers the option to order professional voicing from Major League Baseball announcers Casey Motter (Braves), Andrew Belleson (Cubs), Michael Araujo (Angels), Marysol Castro (Mets) and Greg Kalil (Rays) for the very reasonable one-time price of $2.99 per player. Click here to Meet the Voices and learn more about each one. For about $30 for the entire season, your kids will enjoy the deeply recognizable professional voices each time they step to the plate. And it really couldn't be easier to setup your team and order professional voicing. And with professional voicing in place, you can easily mix with any part of each players favorite song to produce a customized and powerful walk-up introduction for each player. Change each players song as often as you wish. Edit the batting order before each game. Share the professionally voiced team with other parents, coaches, kids, and family members. You may even mix professional announcers within a single team.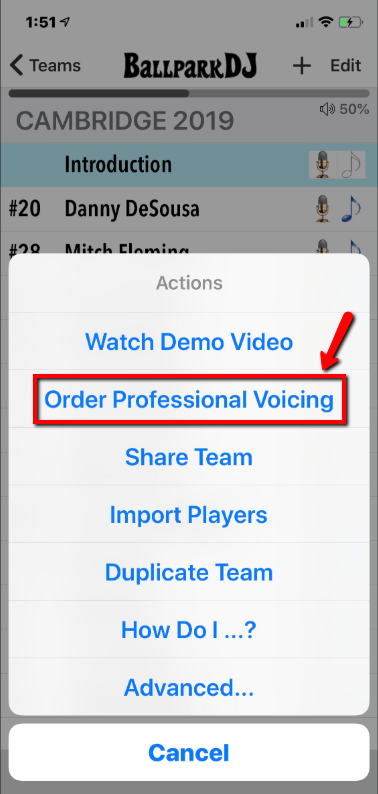 Download BallparkDJ from the App Store on your iPhone or iPad or from the Play Store on your Android device. Create your team and add the players to your team. If any player might be difficult to pronounce, simply voice the players yourself and that pronunciation will be delivered to our professional announcer. It never hurts to just voice all the players before ordering.
Once your team setup is complete, choose "Order Professional Voicing" and follow instructions from there. You will receive an email with a link that will take you to a web page where you can complete your order. The web page gives a variety of options for voice format (Now Batting, Now Pitching, with or without team name, etc) as well as a choice of 5 different major league announcers (with samples). You may also enter special instructions or comments that will be delivered to the professional announcer before he or she voices your team. Your team will be voiced within 24 hours and often within an hour.
When voicing is complete, you will receive an email with a link. Simply open this email on the same device as BallparkDJ and click on the link and your voiced team will be imported. If there is any problem with a players introduction, simply request a redo from the Actions menu. If a player is added, simply choose Order Professional Voicing and then choose the (Some Players) choice. If you discover a name is mispronounced or a number is wrong, that is easy to fix. Click here to for details.
Music, Sharing, Duplicating, Pitching, Editing
Now with your professionally voiced team in place, the fun is only beginning. You may now add music, share your team, duplicate your team, edit the batting order, or even add another team for pitching intros. Players may choose from any of their favorite popular songs on iTunes or Apple Music. Click here to learn more about Music for both Android and iOS. In order to use iTunes music, you much purchase the song, or you may use any of the 20 hard-driving BallparkDJ clips. Your playlist titled "Purchased Music" should reflect songs you've purchased. The Actions menu provides options to share your team with anyone, duplicate your team as many times as you like, or Order Voice (Some Players) to add a player later in the season. Edit the batting order at anytime by clicking the Edit button at top right and then dragging players up/down using the thumb to the right of each player. Add pitching introductions by repeating the process the entire process above but this time appending (Pitching) to the team name, and choosing the pitching format option on the order page. Quick switch between teams by swiping the team name left or right. Batter up!